How to Request a Free Subscription Form
A subscription form is a special block through which a person can subscribe to your email campaigns. It is usually located on the website/landing page or on social media.
Even a simple form can speed up contact collection and improve the quality of the subscriber base. Our team is ready to help make your first form free. To get started, you need to submit an application.
Log in, go to Contacts > Subscription form, and specify your preferences for the future form.
Follow the below recommendations so that the result meets all your needs. The more detailed and accurate information we will get at the initial stage, the less time will be spent on coordination and editing, and the form will be ready faster.
If there is much text, add a link to the document or send an email to support@esputnik.com with the subject line "Application for a subscription form" where also specify your eSputnik account.
We can also make you a free custom email template. To apply, please contact support.
Required Information to Create a Subscription Form
If you have never created forms before, see our design advice to understand what direction to move in.
1) Form purpose.
For which platform it is intended: your website (with URL) or Facebook page (link to a group or page).
Since we only make one form for your account for free, you can use it both on the website and on social media. If you need a different design, add a form on your own following the instructions, or contact our support.
2) Fields.
Specify the number of fields for your form, their types and status (required/optional). We recommend sticking to 1-3 fields because people won't spend time filling more. Additional fields to collect detailed contact information (for further segmentation) can be added later. You can give information about patterns and input formats. In case of any special requirements (the database should have specific data), include them in the application.
For example:
name*
email address
phone number* 79xxxxxxxxxxx
3) Corporate style.
Specify the exact code of the colors to be used in the form. You can find it on your website: right-click the necessary element and choose Inspect.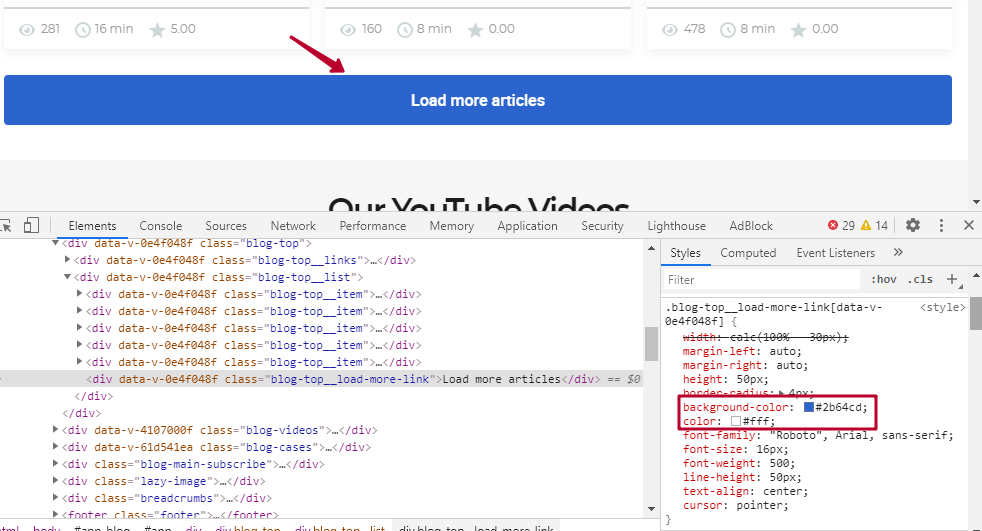 Provide a brand book, if available. This will speed up the creation of the form.
You can also use Color Picker (tool or browser extension) or any online service that defines the color scheme of the website. You can specify a font, add a link to the logo, mascot, or another image to be used in the form.
For example:
background – #FFFFFF;
frame – #FFCD24;
button – #2AABE4;
font – #000000, Roboto, 16pt;
logo: https://yoursite.example/logo.
4) Appearance and placement.
Describe the form: specify its orientation, size, alignment, element position, text, or give a link to the one you like.
Horizontal:
Vertical:
See more forms in Examples below.
For example:
I need a horizontal form to be placed in a website footer full-width (1200 px), height – 200px. There will be text on the left (sample), a field for an email address and a button on the left.
5) Subscription categories.
Specify if you want to segment new subscribers into categories from the start. We can make segmentation by sex (male/female) or topics of interest (checkboxes).
For example:
I need subscription categories with checkboxes: new arrivals, blog articles, sales.
6) Data collection.
Tell how and where the data will be collected, whether you need integration with the website, CRM or other systems.
Subscription Form Best Practices
Choose a noticeable placement. But it shouldn't distract the visitor from the main conversion action (for example, purchase).
Make the form eye-catching. It should stand out, not annoy, and comply with the overall website design.
"Surround" website visitors. The form doesn't have to be located in one place only. Combine different variants. If you opt for one form, get it placed on all pages.
Simplify the subscription process. Unnecessary fields are likely to make a potential subscriber give up signing.
Use graphic techniques – pointers, frames, animation – to draw attention to the form.
Think the text over. Do not write cliches in the description, it is better to tell that your newsletter will bring a new and useful to the life of the subscriber.
Optimize the design. Make a CTA noticeable, create lists, add tooltips, autocompletion, email or phone validation: your form should be understandable and easy to fill.
Tell what to expect. Provide a link to a privacy policy. Specify the send frequency. Make the user experience with your website as convenient from the very beginning.
Give a choice. Conversions from relevant campaigns will be higher than from bulk messages. Subscription categories can do a great job.
Encourage a subscription. Gifts, bonuses, exclusive offers, and content can bring you more contacts than plain promises.
Subscription Form Examples
Horizontal:
+ social media icons and SMS registration;
+ link to Privacy Policy;
Vertical (fields one above another):
Side:
in the footer on the right;
in the footer on the left + discount;
Separate section:

Separate page:
additional fields + Birthday Club;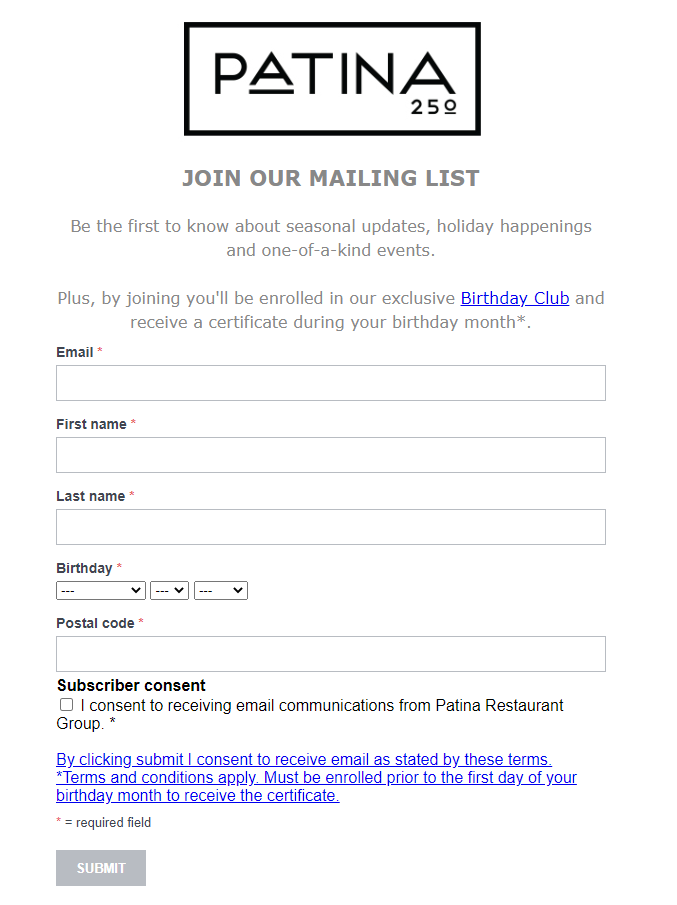 campaigns types and language preferences;
Combined:
top menu and separate block.
What Happens After the Application Is Submitted
After we receive and study your application, our support will contact you within one working day to agree and clarify the details. All the information will be given to developers. Depending on info completeness and form complexity, the design can take up to a week.
A good subscription form is the first step to effective email marketing. To secure the result, make sure you set up a subscription confirmation and welcome series.