Litmus, Email on Acid… Where to Test Emails Before Sending
Imagine you've worked hard on the email's template, content, visuals, subject line and relevant offers. You've built multiple segments and set up the audience. What a pity it would be if people open your emails and see a broken layout, distorted images and cut off template. Of course, this isn't a death sentence to your email marketing but it doesn't encourage engagement and disputes further opens.
Such situations happen because even with modern technologies, email clients don't have universal HTML standards. That's why you need you to test your campaigns to make sure readers will see it as intended across platforms and clients. 
We have tested different tools and came up with a list of 9 best email testers you can use to verify your campaigns before mass sending.
Mailtrap is a popular tool for email testing. It captures your outgoing emails and lets you inspect them in an individual inbox. You can preview each of them, see the code and plain-text version of each email. You can quickly spot any HTML/CSS errors with another built-in feature.
Spam Report
With Mailtrap, you can also see the spam score of each email (with guidance on what to improve) and verify if your domain is listed on any blacklist.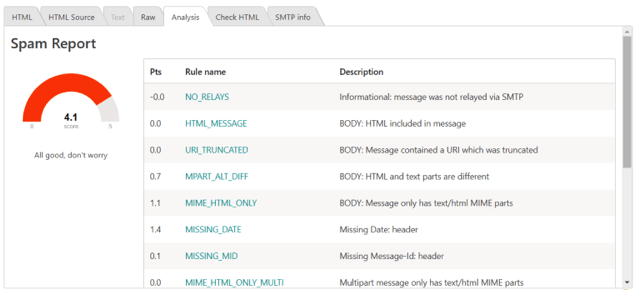 Summing Up
Price: tarting from $9.99/mo.
Free trial: available.
Score: ★ ★ ★ ★ ★ 
ZeroBounce is one of the top email validation services in the market and also, a reliable email testing platform. The company focuses on testing for deliverability to help senders land their emails in the inbox.
ZeroBounce's deliverability toolkit offers three tools.
A mail server tester
When your email server isn't well configured, it can cause your campaigns to land in the spam folder – or not even there. ZeroBounce's mail server tester runs more than 100 checks against your setup to detect any potential issues. Fix them before you send to ensure for the highest inbox placement.
An inbox placement tester
Once you checked your mail server, try ZeroBounce's inbox placement tester. Using more than 20 testing email addresses, you can see where your email lands with popular providers. Should it land in spam or not get delivered, you have a chance to fix your content and settings until you land in the inbox.
A blacklist monitoring tool
When your domain or IP is added to a blacklist, your email deliverability is in trouble. ZeroBounce's tool runs checks against more than 100 email blacklists and alerts you right away if you're found on any of them. Furthermore, ZeroBounce gives you the contact information for the blacklist provider, so you can act quickly about getting delisted.
Summing up
Price: starts at $39/month for a Starter package
Free trial: All ZeroBounce account owners receive 100 free email validations, 1 free mail server test, 1 free inbox placement test, 1 free blacklist monitor – every month.
Score: ★ ★ ★ ★ ★ 
Litmus is one of the most popular email testing tools. It's popularity roots not only in the extensive functionality but also in expert blog and video content. The company examines email clients and releases regular updates in their frameworks.
Litmus email testing offers different solutions but email testing across different browsers is its main and most popular feature.
This service can test your email templates across 90+ email clients and devices. 
Highlights broken links;
Finds images without ALT text;
Shows how an email would display across different browsers, etc.
How Litmus Test Works
1. You send a test email.
2. The service opens it in different email clients, using real devices and not emulators.
3. It takes screenshots of how your email looks across different email clients and devices.
4. You can see the results in your profile and share the link to the test if needed.
Apart from the email layout, you can test subject lines. For this you need to go to First Impressions. If case the subject isn't optimal, the system will offer solution options. 
By the way, you can do subject line A/B testing in eSputnik as well. When creating the campaign, specify two or more subject lines to test. At the launch, the sytem will automatically split the recipients into equal groups and send them emails with different subject versions. You can see the results in Reports > Experiments.  
Learn more on how to test email subject lines. 
All tools to create and send mass and transactional emails
Spam Testing
Spam testing by Litmus can detect deliverability problems and help hit the Inbox. The sytem analyzes the email upload speed, image display, links, etc. and gives recommendations if needed. The functionality is available under the Pro and Enterprise subscriptions. 
Summing Up
Price: starting from $99 for 1 user (email preview only); full-service Litmus pricing plan starts from $199.
Free trial: 7 days.
Score: ★ ★ ★ ★ ☆
The service offers products similar to those of Litmus: Email Testing, Email Editor and Spam Testing. You can test your emails in 90+ email clients and devices.
Screenshots are taken on real devices and not emulators. You can test your emails with Dark Mode enabled.
You can share the test results with the link.
One of the flows is that Email on Acid supports a small number of Android devices.
Campaign Precheck
While Litmus Testing includes both the link and HTML testing, Email on Acid has a separate feature available under all paid plans.
The functionality includes:
Email code accessibility check. Helps adapt your emails for people with visual impairment, impaired color perception or dyslexia. The service offers recommendations on email design and ensures a correct email in text to speech readers.
Preheader preview. Shows how the preheader and the subject line look like in 15 most popular email clients and avoids text being cut off.
URL confirmation. Scans the email for broken links. You can also upload a spreadsheet with all URL addresses to let Precheck compare them to your HTML.
Image validation. Fixes image size and sets the first frame of a GIF if it's displayed as a static image.
Summing Up
Price: starting from $86/mo for unlimited tests.
Free trial: 7 days.
Score: ★ ★ ★ ★ ★
Last post
This email testing service takes screenshots from 50+ browsers and apps. It supports testing of emails in Dark Mode.
It uses  real devices and not emulators and allows you to pick a device to test on.
You can also share the results using the link.
The service also offers Analytics and Spam Check. You can see all the available features in the menu on the left.
Spam Check
One of its main features is a built-in HTML anti-spam check that allows solving potential email deliverability problems.
The report highlights HTML errors, broken links or images. The service checks HTML analyzer results and where emails are delivered (Inbox or Spam). It helps fix the errors before launching a campaign.
Summing Up
Price: starting from $25/mo.
Free trial: 7 days.
Score: ★ ★ ★ ★ ☆
This email testing software supports 90+ email clients. You can also test an email with a PDF attachment in 27 apps.
You can upload an email as an archive or HTML or send it to a test email address. Testi@ also offers a spam test.
When sending an email, you see its preview of an HTML code and actual preview in the email client. The possible errors detected in the code will be highlighted on the right. To see the whole list, you need to subscribe to one of the paid plans.
Summing Up
Price: Pro is $20/mo. 
Free plan allows testing in Gmail and Yahoo only.
Score: ★ ★ ★ ☆ ☆
The service is a free code testing tool (HTML, XHTML, CSS) that supports 70+ email clients and different devices.
The rest of features (checking links, images, fonts, responsiveness, etc.) are available under paid plans.
Summing Up
Price: starting from $14.95/mo.
Free trial: only code checking.
Score: ★ ★ ★ ★ ☆
This service doesn't show how emails are displayed on different devices but it highlights the errors that might forward the email to Spam. Mail Tester is a spam checker tool mainly designed to check the spam score of newsletters (using Spam Assasin) but it can process other emails as well.
The above services also have similar functionality but Mail Tester doesn't require registration to send test HTML emails. This is its main benefit.

How to Use Mail Tester
Each time you enter Mail Tester, the service generates a random email address to send a test HTML email to. Having sent it, Click Then Check Your Score and the service starts checking your email.
As soon as the boat stops, you'll see the spam score (10/10 is the best result) and recommendations on how to fix the possible errors. 
Note!
The result will be available within 7 days under a free plan or within 30 days for a registered account.
If you send a new email to the same test address, your previous test results will be replaced with the new ones.
You can send only 4 tests a day under a free plan.
Summing Up
Price: starting from 50€ for 500 tests. The service stores test history and scores.
Free options: 4 tests a day.
Score: ★ ★ ★ ★ ★
AMP emails are one of the latest email marketing trends. The AMP technology enables readers to perform actions right inside the email body: take a survey, fill out forms, browse catalogs, etc.
Note! To send AMP emails, you need to register with Google as a dynamic email sender. One of the stages is sending a real, production-ready email in two versions - a regular one and an AMP version. To make sure an AMP version is correct, you need to check it for possible errors.
I want to learn more about AMP emails
How to Check an AMP Email in AMP for Email Playground
1. Choose an AMP element. By default, it's a carousel.
2. Copy the HTML code. Detected errors, if any, will be highlighted and provided with the information for correction. The email with errors has the validation status "Fail": the preview for such emails is unavailable.
3. Once all errors are fixed, the validation status will change to "Pass," and you'll be able to see the preview.
4. Disable Include proxy assertion token in XHR requests from the playground and click Send to send the fixed email to your address.
If you're just getting started with the AMP technology, practice creating different elements right in the validator.
Note that AMP for Email Playground is integrated in the eSputnik editor. You can text and fix the errors straight in the service.
Summing Up
Price: free
Score: ★ ★ ★ ★ ★
---
Email testing in different email clients is mandatory to secure correct dispaly of your campaigns. If now you can't afford services with paid functionality, opt for their less expensive analogs. With so many rendering algorithms, your task is to ensure that your emails that look good on desktop will look this good across other devices and clients.