Black Friday 2021: Best Marketing Deals with Promo Codes
A holiday season is always a busy time for marketers. You need to think of appealing offers, generate tons of creative emails, SMS and pushes, design unique templates, build relevant segments and effective workflows. And there is also social media, landing pages, YouTube, influencers and further analytics you need to manage and process.
Our service covers large ecommerce marketing challenges, from customer acquisition through signup forms to retention through behavioral triggers and personalized recommendations.
Personalized product recommendations are an essential selling tool in ecommerce. Recommendations allow you to increase conversion to purchase by 5-10%, sales of related products by 16%, site turnover by 15%.
Our omnichannel CDP has collected the most productive algorithms for generating product recommendations and placed them in a convenient system. The neural network analyzes huge amounts of data. The algorithm will select the products your customers will want to buy.
Black Friday offer: pay for 2 months of using the Product Recommendations functionality and get 1 extra month for free!
Stripo, an all-in-one email design platform, is there to help you create high-quality interactive emails twice faster. 20% Off any Annual Subscription for all new users with BFur2xODPromocode!
Valid from November 18 to November 29.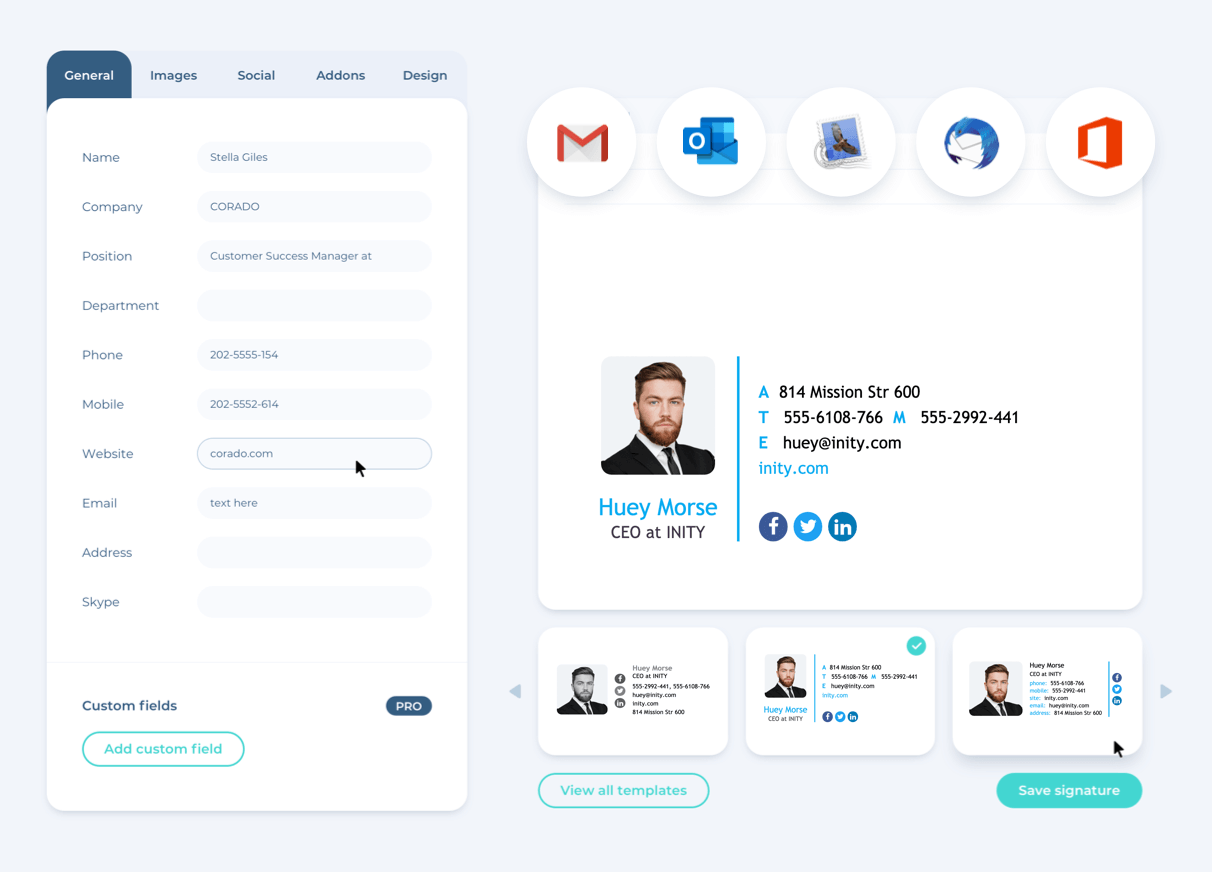 MySignature is a simple and advanced online email signature generator. It allows you to easily create branded email signatures and make your business emails look even more professional. Your email will be visually compelling in all major email clients (Gmail, Outlook/Office 365, AppleMail, Thunderbird, etc.) and devices. Our offer: 50% off recurring for the yearly plans. Coupon code: SigFriday2021
Valid from November 26 to November 30.
Get your email list in shape so you can reach the inbox this holiday season! ZeroBounce offers 40% free credits – on top of any number you buy. Your credits never expire and you can use them to verify, score and add Activity Data to your email list.  Clean and enhance your database to boost your deliverability and see your ROI increase. No coupon needed – just make a purchase and ZeroBounce will add your bonus right away. 
Valid from November 15 to November 30.
Newoldstamp is a top-notch email signature generator that lets you seamlessly create, manage, and distribute email signatures across your whole company. The software helps to turn business correspondence into an effective marketing channel. It enables you to drive additional traffic to your website, upsell products and announce events by including clickable links, beautiful banners with CTAs, and interactive buttons to your business communication. Black Friday Deal: 30% OFF on up to 25-Signatures Package (recurring discount for all next payments). Coupon Code: BF2021NOS
Valid from November 26 to November 30.
At Multisearch.io you'll find all the smart search features and functionality powered by Machine Learning. Choose a Professional or Enterprise plan, pay for one month of Multisearch Smart Search, and get two for free. 
Sign up by November 26.
Netpeak Software is a tool suite that includes 3 SEO tools:
Netpeak Spider (SEO crawler for audits and website scraping);
Netpeak Checker (SERP scraper and URL analyzer);
Owlymate (SEO assistant for Windows and macOS with a handy planner of SEO checks, notifications to email, and detailed online-reports). 
Grab 60% OFF on any plans for Netpeak Spider, Checker, and Owlymate.
Valid from November 16 till December 10.
Plerdy is a conversion rate optimization platform for SEO specialists, marketers, UX experts, and website owners. Tools: Heatmap, PopUP Forms, SEO checker, Session Replay, Event Tracking, Sales Performance, Conversion Funnel. They will help you identify bottlenecks and improve your conversion to a website. -30% discount for using Plerdy tools. The offer is valid subject to payment for the year.  
Valid from November 5 till December 6.
HelpCrunch is a one-stop platform with all the necessary tools for building strong and lasting relationships with your customers. It encompasses such features as live chat, knowledge base, popups, email marketing, and help desk. Starting from November 1, you can get 30% off your first payment for HelpCrunch. Sign up for a free trial with the promo code BFCM2021. Note that the promo code adds up to the regular annual discount, so you can get up to 50% off by committing for a whole year.
Valid from November 1 to November 30.
PDFLiner is the simple all-in-one document management solution. The platform seamlessly integrates lots of useful features like PDF editing and converting, electronic signature, document management, fillable forms catalog, etc. It can be pretty handy for people who want to save their time and paper on document workflow. With PDFLiner you can forget about scanning, printing, and mailing a document to be signed.
Black Friday Offer: Get 50% off on all Annual Plans for a year and on all Monthly Plans for 3 months.
Valid from November 26 to November 29.
SE Ranking is an all-in-one SEO platform with 30+ tools for every task in search marketing. This year, the platform has completely updated Website Audit and added Historical Data. Spoiler alert: SE Ranking will soon roll out our new Local SEO tool along with the updated On-Page SEO Checker. By getting an annual subscription now at the best price of the year, you will not only get a set of tools, but also access to all future releases.
Get 25% off any annual plan on top of the default 20% discount. The discounted cost of an annual subscription starts at $14. 
Valid from November 22 till December 6.
Serpstat is an all-in-one SEO platform that helps business owners and market experts analyze competitors, perform keyword research for SEO and ads, and track online positions and backlinks of any website. Get a 40% discount on any pricing plan starting from 6 months.
Valid from November 15 till December 17.
SocialBee is the top-notch social media management tool for entrepreneurs, startups, small businesses, and freelancers who want to make the most out of their social media presence. SocialBee allows you to add, organize, and share content across various channels such as Facebook, Twitter, LinkedIn, Instagram, TikTok, Pinterest, and Google My Business, all from one place - while saving your time, money and energy.
Black friday offer: 30% off for 3 months on any tool plan; 30% off for 3 months on any Concierge Service. Discount code: SOCIALBEEBF21.
Turbologo is an online logo generator that will help you create your own logos in just minutes. Logo maker allows you to create all types of logos including company logos, product logos, gift logos, and more. Use promo code "black2021" and get up to 75% off on all Turbologo's products.
Valid from November 22 till November 29.